ONLINE APPOINTMENTS - Complete Form Below - or Call (989) 596-7790

April 20, 2017 - Until Further Notice, TESTS WILL BE SCHEDULED ON THURSDAYS & FRIDAYS EACH WEEK
Study for your Automobile Basic Skills Test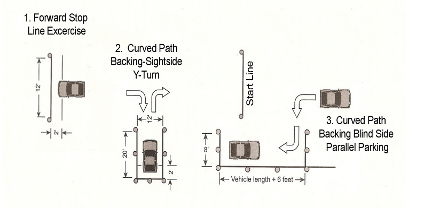 Upon confirming your road test appointment online or over the phone, complete a secure payment online, using PayPal, VISA/MasterCard, Discover, or Debit Card.

NOTE: Processing Fee Included in Total

$3.00 for Automobile Exams and $5.00 for CDL Exams

Important Testing Policies - PLEASE READ

All CDL Exams must be scheduled a minimum of two (2) business days in advance. Please allow (48) hours for all cancellations. NOTE: CDL Applicants will need to make sure they have the required documents submitted in order to schedule their road test. Upon completion of payment, please contact office at (989) 596-7790 to obtain your approved test date and time.

Need assistance in obtaining your CDL CLICK HERE
What else will we need? CLICK HERE

AUTOMOBILE ROAD EXAMS - Please make sure you have all the correct documents when arriving for your appointment. If unsure of what you need, please refer to the "Requirements" page of this website. It is also important that you only bring one (1) other person with you to the test site. This should be: A Parent or Guardian, if you are under age 18, and/or a licensed adult if you are 18 or older. No young children please.